Do you struggle to perform handstand push-ups, whether in strict or kipping?
Are you tired of watching your training partners complete sets while you struggle to do a single repetition?
Can you do one, but you can't string together repetitions due to lack of technique or muscle endurance?
Doyou feel completely lost once you're upside down?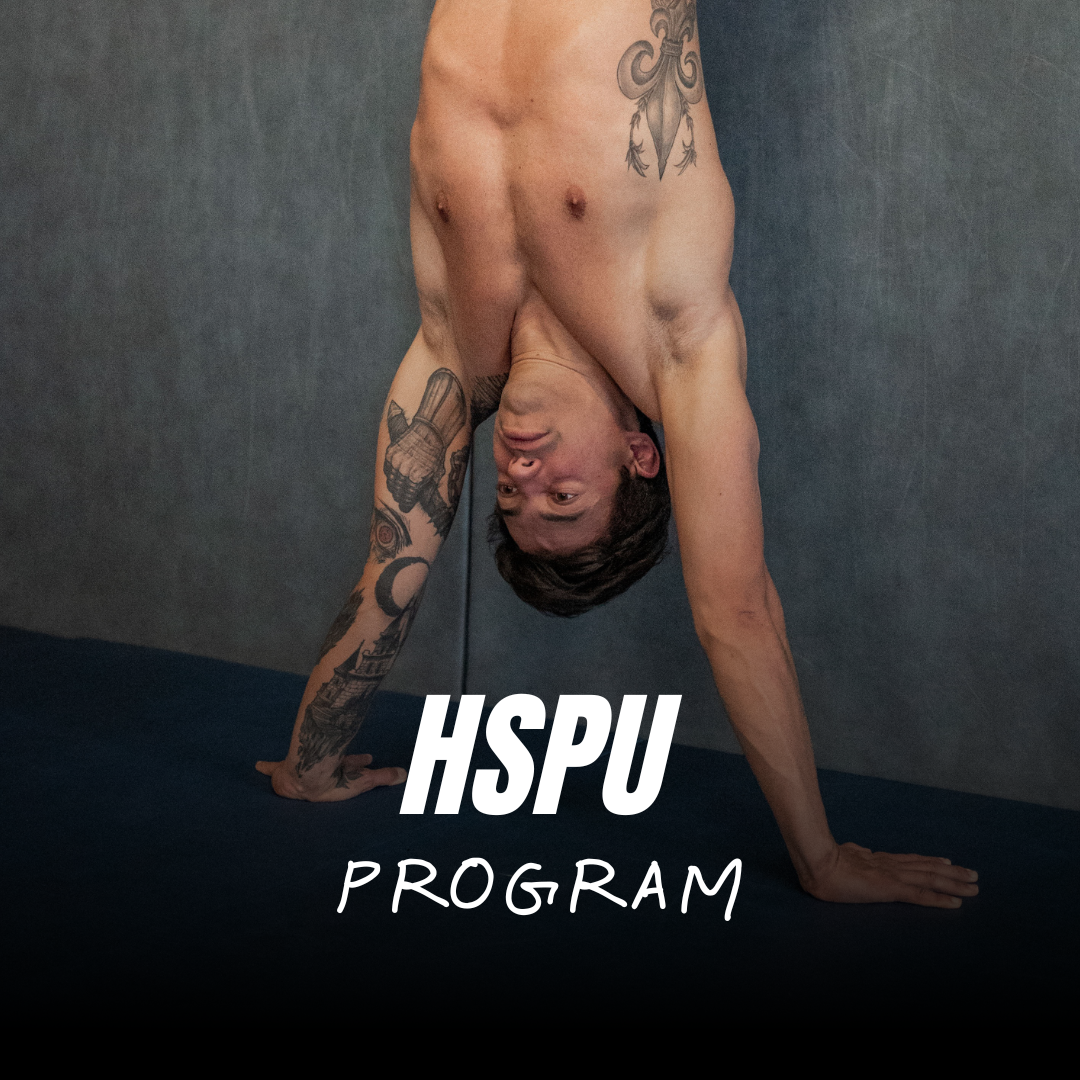 FIRST HSPU
La programmation est top et a été bien pensée!
Super !
Programme super efficace et très bien élaboré. J'avais déjà les kipping HSPU, mais cette prog m'a permis d'être plus à l'aise sur la tête à l'envers, en tripod, et surtout, en strict HSPU ! Je recommande
To address all these issues, I've created the HSPU program. It's an easy-to-follow program adaptable
to your current fitness level. Using a method refined through years of practice and coaching, this program will help you achieve your first strict and kipping handstand push-ups or simply improve your technique and increase your consecutive repetitions.

The good news is you won't have to stop your box's WODs to follow this program. The intensity and volume are designed so that it can be followed in parallel with another, thanks to short and effective sessions. Additionally, the program comes with an interactive PDF with tutorial videos for each of the exercises inside, making it easy for you to follow.

This program consists of two cycles, with the first cycle focusing on strength development and the second cycle emphasizing technique development. What you should take away is that this program will not only help you achieve your goal but also make you a more well-rounded athlete.
PREREQUISITES :
• 30 seconds handstand hold (back to the wall)
• 10 push-ups
WHAT YOU GET :
• 18 weeks of progressive training, 3 sessions per week, with an average duration of 25 to 35
minutes, including warm-up.
• Video demonstrations for all exercises to help you perform them correctly.
• Unlimited access to the program (PDF).
WHAT YOU NEED :
• Wall space
• Plyo box
• PVC pipe
• Pair of low rings
• Dumbbell and kettlebell
• Resistance bands
• Abmat or mat
FAQ
DO I HAVE ENOUGH STRENGTH TO FOLLOW THIS PROGRAM ?
You should be able to perform at least 10 push-up repetitions and hold a 30-second handstand hold (back to the wall) before starting the HSPU program.
CAN I DO THIS PROGRAM ALONGSIDE MY CURRENT WORKOUT ?

Yes, this program is designed to be followed in addition to your current training. You can do the sessions before or after your CrossFit workout, for example, provided that you're willing to take it easy in case of significant general fatigue.
WHAT HAPPENS AFTER I PURCHASE THE PROGRAM ?
You will receive a link to download the PDF.
HOW LONG WILL I HAVE ACCESS TO THE PROGRAM ?
Since it's a PDF, you will have unlimited access to it.