Do you struggle to perform toes to bar exercises?
Are you tired of watching your training partners complete sets while you struggle to do a single repetition?
Can you do one, but you can't string together repetitions because you lose your rhythm or lack muscle endurance?
Are you unsure about
how to progress?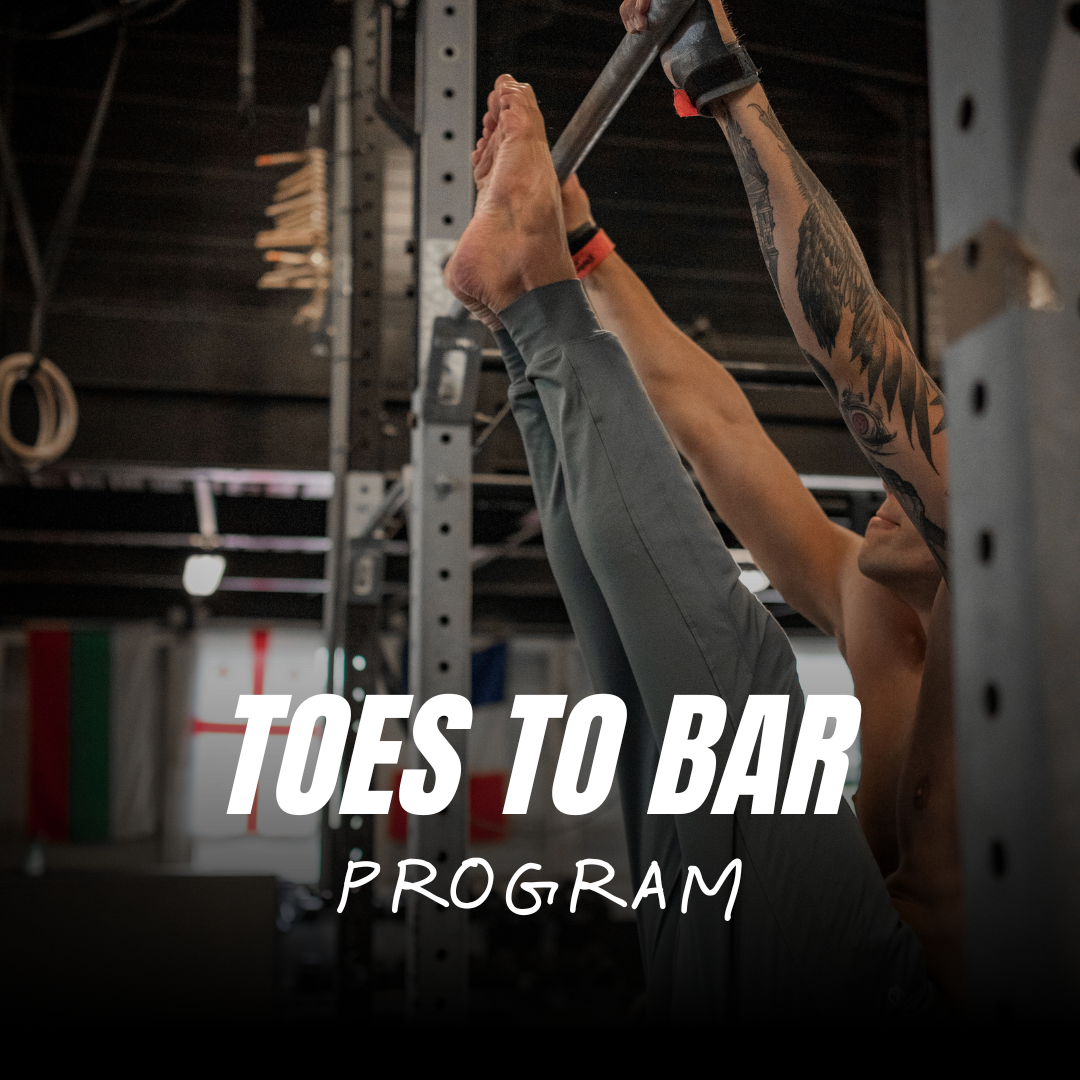 Progression
Je savais faire des toes to bar mais c'était un point faible avec difficulté de les enchaîner sous fatigue en WOD.
La prog m'a permis de gagner en souplesse et technique sur le mouvement et également d'être beaucoup plus endurante en wod.
To address all these issues, I've created the TOES TO BAR program. It's an easy-to-follow program
adaptable to your current fitness level.
Using a method refined through years of practice and coaching, this program will help you achieve your first toes to bar or simply improve your technique to increase your consecutive repetitions.
The good news is you won't have to stop your box's WODs to follow this program. The intensity and volume are designed so that it can be followed in parallel with another, thanks to short and effective sessions. Additionally, the program comes with an interactive PDF with tutorial videos for each of the
exercises inside, making it easy for you to follow.
This program will focus on both strength development and technique improvement. What you should take away is that, in addition to helping you achieve your goal, it will make you a more well- rounded athlete.
PREREQUISITES :
• 3 Strict pull-ups unbroken
• 5 kipping pull-ups unbroken
WHAT YOU GET :
• 12 weeks of progressive training, 3 sessions per week, with an average duration of 25 to 35
minutes, including warm-up.
• Video demonstrations for all exercises to help you perform them correctly.
• Unlimited access to the program (PDF).
WHAT YOU NEED :
• Pull-up bar
• Plyo box
• PVC pipe
• Pair of low rings
• Dumbbell and kettlebell
• Resistance bands
• Weightlifting bar and some weights
FAQ
DO I NEED TO BE STRONG ENOUGH TO FOLLOW THIS PROGRAM ?
You should be able to perform at least 3 repetitions of strict pull-ups and 5 repetitions of kipping pull-ups before starting the TOES TO BAR program.
CAN I DO THIS PROGRAM ALONGSIDE MY CURRENT WORKOUT ?

Yes, this program is designed to be followed in addition to your current training. You can do the sessions before or after your CrossFit workout, for example, provided that you're willing to take it easy in case of significant general fatigue.
WHAT HAPPENS AFTER I PURCHASE THE PROGRAM ?
You will receive a link to download the PDF.
HOW LONG WILL I HAVE ACCESS TO THE PROGRAM ?
Since it's a PDF, you will have unlimited access to it.